---
The Retrofit Benefit
A seamless approach to turning your industrial vehicle fleet autonomous.
Nov 15, 2022
Educational Resources
The demand for industrial automation is surging, as autonomous vehicles have risen to become an industry necessity across a multitude of sectors. This demand proceeds to multiply as businesses in all industries continue to combat labor shortages, supply chain disruptions, and the e-commerce boom.
As a result, those that adopt automation are carving out a competitive advantage for themselves. The deployment of industrial autonomous vehicles generates profound improvements in productivity and efficiency, profitability, agility, scalability, and safety for businesses.
However, for many organizations, especially those that already utilize industrial vehicles, the idea of replacing their fleet of vehicles with autonomous ones is too colossal an endeavor to even consider. While the benefits are clear, the matter of taking a leap into automation becomes daunting.
Fortunately, there is an alternative option for those that don't wish to retire their assets — retrofitting.
The ability to retrofit a fleet with AV technology provides a more favorable way for companies in the industrial sector to seamlessly harness autonomous solutions without having to purchase a whole new fleet of vehicles. As we'll explore, this allows organizations to reap the benefits of autonomous industrial vehicles much quicker and at a fraction of the cost.
Retrofitting In the Industrial World
Retrofitting in the industrial world is not new. In light of Industry 4.0, also known as the Fourth Industrial Revolution, professionals have been increasingly connecting their manufacturing operations to the Internet of Things (IoT) by updating their legacy equipment. In fact, it is estimated that the global IoT in manufacturing market size will continue to grow from 205.8 billion USD in 2021 to 501.07 billion USD in 2025.
Legacy equipment is particularly deep-rooted in the manufacturing industry. In the average production line, an organization will have roughly 5-15 machines, typically sourced from different vendors and involving multiple different processes. These machines can last decades, so as technology changes, facilities start to lag behind.
This change was most dramatic with the digitization of the manufacturing industry that began a few decades ago. Organizations that failed to upgrade their equipment suffered a number of quantifiable consequences.
According to Forbes, engineers in manufacturing facilities spent around 30-70% of their time looking for information that legacy equipment could not provide. As a result, 58% of manufacturers agree that IoT is not just desired, but required to transform industrial operations.
Fortunately, manufacturers soon realized that the solution to these problems is via retrofit. By definition, companies could update the equipment they'd already purchased with new technologies and new capabilities.
The last decade has really seen this effort accelerate. Manufacturers have been upgrading their old legacy equipment to be IoT-enabled with smart sensors, edge gateways, asset tracking, video cameras, safety technology, etc. — mixing old technology with new. This includes upgrading manually operated machines, programmable logic controllers (PLCs) in the assembly process, machine tools such as grinders, and so on.
Although it's easy to imagine the benefits of such a change, the numbers are surprising nonetheless. Research from McKinsey found that by upgrading equipment with these connected technologies, companies can experience a 30-50% reduction in downtime, 10-30% improvement in product throughput, and a 10-20% decrease in the cost of quality.
While it has become commonplace to retrofit manufacturing equipment with increased "IoT" capabilities, organizations cannot fully realize the vision of an integrated, well-orchestrated warehouse without turning to another major investment: industrial vehicles.
The Transition from Industrial Vehicles to Autonomous Industrial Vehicles
The demand for industrial vehicles has expanded over the years as organizations sought to increase productivity, create safer working environments, and scale their operations in response to mechanization and rapid advances in e-commerce. Now, all major industries, from manufacturing, fulfillment, and logistics, to mining and construction, rely on their industrial vehicle fleets to operate.
Manufacturing leads the pack. Fully 55% of all industrial vehicles are used in the manufacturing industry. However, these vehicles are complex, requiring skilled operators that are difficult to hire and retain in light of recent labor shortages.
As a result, autonomous industrial vehicles have emerged to become an industry necessity at bewildering speeds. Automation has provided businesses with a profound way to increase production, profitability, adaptability, scalability, and safety, with reduced human intervention.
By 2026, the Industrial Automation Market is estimated to reach new heights at $306.2 Billion according to Meticulous Research Inc. However, the ability to deploy autonomous vehicle solutions continues to constrain organizations that already have their own fleets.
Retrofitting Industrial Vehicles with Autonomous Capabilities
Retrofitting specifically provides an "in-between'' solution that allows organizations to turn to autonomy without retiring their preexisting vehicle assets. In addition to saving costs, organizations that choose to retrofit are able to do so much more quickly without having to worry about vehicle delivery times and supply chain issues.
To better understand the retrofit process, consider Cyngn's retrofit solution, DriveMod Kit, which is an all-in-one autonomy integration package. With advanced sensors and hardware components, DriveMod Kit makes it easy for organizations to bring advanced autonomous capabilities to the stockchaser vehicles. Over time, DriveMod Kit will become available on more and more vehicle form factors, expanding the retrofit option to even more vehicle types.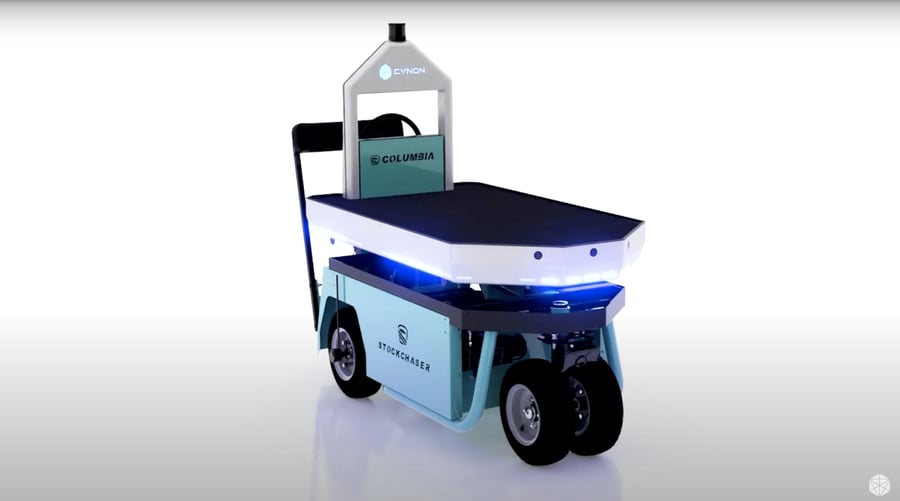 DriveMod Kit attachment onto a Columbia Stockchaser.
By retrofitting, the automation upgrade process becomes straightforward and includes very few steps. With DriveMod Kit specifically, the entire module is installed onto the customer's existing vehicle, a calibration is run, and the autonomous vehicle is ready for autonomy in a matter of hours.
Put simply, DriveMod Kit allows the vehicle to be controlled electrically by Cyngn's software but preserves the ability for the vehicle to operate mechanically with a human driver. In turn, customers can adopt automation even more smoothly by running hybrid operations that enable ad hoc manual operation when needed.
"This ability to retrofit existing vehicles is "a unique offering in industrial vehicle automation as AMR and AGV solutions typically require new vehicles to be purchased," says CEO, Lior Tal."
What are The Benefits of Retrofit?
The ability to retrofit with AV technology eases roadblocks to adoption for many businesses. Beyond the quick installation of the technology itself onto a vehicle, retrofit capabilities accelerate the adoption of autonomy at a fraction of the cost.
1. Cost Savings
The vast majority of autonomous vehicle solutions out there require the purchase of new vehicles. With bigger organizations, replacing an entire fleet can cost more than 7-figures.

The ability to retrofit eliminates the need for an organization to retire assets that have remaining lifespans. This additionally helps support companies' sustainability goals, taking useful assets that could have been prematurely retired and giving them a new life.
2. Faster Implementation
The increasing demand for autonomous vehicles has led to growing challenges for automation equipment vendors who don't have the capacity to scale quickly enough. This has strained new vehicle production and exacerbated the labor shortages experienced by businesses that are growing while struggling to fulfill staffing needs. In turn, customers have been facing long implementation timelines.
Fortunately, retrofit allows for faster implementation by eliminating supply chain dependency on new vehicles being built. Installation can be done in just a day, to a few days, and gives businesses an autonomous solution, almost immediately. By comparison, ordering a new vehicle can take many months.
Additionally, retrofit vehicles can easily integrate into an organization's existing workflow with very little effort. Workers will already know how to use their given vehicle, understand its ability to efficiently drive their routes, fit the width of their aisles, and handle their typical payloads. This means that an organization doesn't have to embark on the extra discovery and overhaul of operations required with a completely new fleet of vehicles.
3. Stepping Stone
Through retrofit, organizations also don't have to switch to autonomous vehicles all at once. Instead, they can pursue a hybrid model to assess the value of an AV investment and gather data. Moreover, this can create a more smooth transition to a fully-autonomous vehicle fleet. This results in a natural progression for a business, creating value along the way and lowering the overall barriers to entry and adoption of automation.
How Does Cyngn Ease Roadblocks to Adoption with Retrofit?
As outlined, Cyngn enables companies that have existing vehicles to turn their fleets autonomous with DriveMod Kit. Our flexible, adaptive autonomous vehicle software means that we can bring self-driving capabilities to any commercially available vehicle form factor. DriveMod Kit is currently commercially available for Stockchasers and future revisions of the hardware will bring Cyngn EAS to additional vehicles like forklifts, tow tractors, side loaders, and other utility vehicles.
A key feature is that DriveMod ensures diverse fleets operate smoothly regardless of vehicle type or manufacturer. This value of universality means that a customer's vehicles will be on a singular system regardless of vehicle type, which includes similar digital interfaces and training across all of the customer's fleet. The result is consistent experience for employees with decreasing marginal costs for bring-up and training with every new vehicle type that is adopted.
Cyngn's recent engagement of a domestic manufacturing partner to scale the production of DriveMod Kit will further allow us to increase the volume produced while reducing the cost of manufacturing these AV hardware modules. The whole point is to pass on the lower costs and flexible scalability to our customers.
To learn more about Cyngn's retrofit benefit and the industrial autonomous vehicle opportunity, check out our recent white paper on the rise of industrial autonomy — Autonomous Industrial Vehicles: The State of the Industry.