---
Industrial Automation: The Cost of Doing Nothing
Cyngn has found that there's an up to 50% cost premium to delaying your investment in industrial automation.
Apr 6, 2023
Educational Resources
The rise of industrial automation has led global industries into an age of unprecedented transparency, flexibility, scalability, and efficiency. According to Fortune Business Insights, the global industrial automation market is projected to grow to $395.09 billion by 2029, offering immediate benefits and results to organizations across all sectors.
As a result, investing in this cutting-edge technology has become increasingly vital for companies to remain competitive. In fact, early adopters are carving out a competitive advantage and setting new industry process standards. McKinsey Analytics estimates the manufacture of autonomous industrial vehicles has increased by 11.6% in the U.S. in the first half of 2022 alone. Now, around 12% of US manufacturers have already integrated autonomous vehicles into their workflows.
Many of these early adopters attributed cost savings as their number one reason for adopting industrial automation. Ironically, those who haven't embraced AVs cite cost as the main barrier to adoption. This behavior suggests a trend where a new technology is believed to be too expensive. However, in reality, failing to adopt industrial automation at this crucial juncture can ultimately result in even higher costs for your organization.
As a result, we have found that there is an up to 50% cost premium to delay the implementation of automation. In this article, we dive into the hidden costs of not adopting AVs, today.
The High, Hidden Costs of Not Automating Today
The cost of doing nothing is significant. By delaying investment in this technology, your organization will face additional high, hidden costs related to labor, productivity, and safety.
As a result, we found that there is an up to 50% cost premium to delay your investment in industrial automation. Basic math reveals that in facilities with 3 shifts and an average of 33% of workers' time is spent transporting goods, 3 AVs can perform the work of 9 laborers. This offsets both the higher worker salary plus the hidden costs.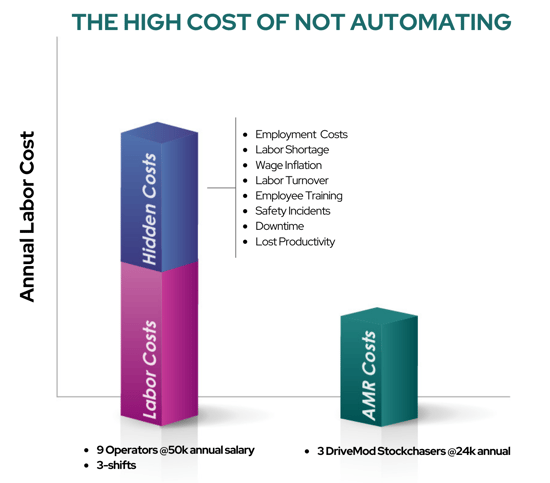 Let's dive deeper into each of these hidden costs and what they mean for your business —
Labor:
Labor is one of the biggest challenges currently faced by the industry, as it is not only costly but difficult to find and retain. It is estimated that by 2030, the impact of manufacturing jobs that remain unfilled could cost the US economy more than $1 trillion.
Yet despite common misconceptions, workers' salaries are not the primary cost to weigh automation decisions against. In reality, there are numerous employment costs associated with hiring, retaining, and losing employees that are significant. These employment costs can include sick days, training costs, benefits coverage, recruitment expenses, employer contributions to healthcare, etc. Therefore, the more mundane human tasks that can be taken on by AMRs, the fewer employment costs an organization has to incur.
Labor Shortages and Wage Inflation:
Specifically, labor shortages rank in the top 4 greatest challenges facing manufacturing, transportation, and supply chain leaders, with over 50% citing employee retention as their single biggest challenge. When we consider that it takes 30-60 days to fill an open position, the enormous impact of employee hiring and retention on productivity becomes clear.
The challenge of labor availability extends well beyond the pandemic. According to a study by Deloitte and the Manufacturing Institute, 77% of manufacturers say they will continue to have difficulties attracting and retaining workers in the long run. Furthermore, almost 8 in 10 manufacturing executives surveyed stated that not filling jobs has a moderate to very high impact on maintaining production levels.
Meanwhile, wages for manufacturing workers are steadily rising due to the labor shortage, with around a 6% salary increase for existing employees and a 6.8% increase for new hires. Moreover, labor costs in the manufacturing sector alone saw around a 7.7% increase in the fourth quarter of 2022. As a result, labor costs constitute, on average, 65% of most warehouse facilities' operating budgets. By delaying your investment in automation, your organization is only raising your operation costs.
The Solution:
Fortunately, autonomous vehicles can address the labor shortage issue head-on by taking on repetitive tasks and transport routes, freeing up an estimated 30%-50% of a skilled worker's time. Companies can increase their production with fewer workers and at the same time assign their employees to more important and valuable tasks.
In turn, organizations can further ease the impact of wage inflation on their business, improving production levels without increasing wages. Unlike human labor, autonomous vehicles do not increase their price quarter over quarter.
Labor Turnover and Training:
High labor turnover can also have a significant impact on a company's financial health. In 2022, the average turnover rate in the manufacturing industry averaged around 49%. The costs linked to turnover can be staggering, as replacing a worker can be extremely expensive and time-consuming.
The cost of turnover can be calculated based on a range of expenses related to finding, hiring, and training new employees. However, the financial impact of turnover goes beyond these direct costs and also includes indirect costs, such as reduced morale, decreased productivity, and increased errors, which accumulate to hurt a company's bottom line.
The expenses associated with employee training can be particularly significant. Specifically, training a new warehouse worker costs an organization more than $1,000, or around 4% of an employee's total salary.
As a result, it's estimated that it costs a company around $7,000 to replace a single warehouse worker. To put it into perspective, if you own a warehouse with 100 workers, and the average turnover rate in the manufacturing sector is currently 43%, you could potentially lose 43 employees each year. Overall, turnover could cost you at a minimum, $301,000 every year.
The Solution:
Industrial automation can help alleviate high labor turnover and in turn, training costs for organizations. More obviously, unlike human workers, these vehicles do not require extensive and costly training.
Additionally, by replacing tedious tasks with AVs, we not only reduce the number of employees that require training resources, but we also alleviate boredom in the workflows of current staff. This can reduce the likelihood of employee churn. In fact, a study at Wharton discovered that by improving the quality of work for existing employees, AVs can significantly increase worker retention.
Lost Productivity and Downtime:
The numerous hidden costs related to labor ultimately contribute to lost productivity. According to the U.S. Bureau of Labor Statistics, labor productivity in the warehousing and storage industry has decreased every year since 2015, as increases in hours worked outpace increases in output.
As discussed, this decline in productivity can be attributed, in part, to dull and repetitive tasks, such as driving goods around huge facilities. Specifically, boredom associated with these types of tasks can be linked to errors, safety issues, lower morale, and employee turnover. A study by Vanson Bourne found that 23% of unplanned downtime is caused by human error alone.
Unplanned downtime can be particularly costly and disruptive to the productivity of a facility. Research shows that the average manufacturer confronts 800 hours of equipment downtime per year — more than 15 hours per week. Altogether, unplanned downtime can cost manufacturers as much as, a whopping $50 billion a year.
According to studies, this downtime, whether planned or not, can further waste up to 1-10% of available production time. This can lead to lost revenues or sales opportunities, tighter profit margins, lost product or materials, overtime labor, etc.
The Solution:
Autonomous vehicles can help companies achieve significant productivity gains by taking on tedious and repetitive tasks, improving throughput and operational efficiency.
AVs can specifically reduce the likelihood and duration of downtime by working continuously, responding quickly to unplanned events, and mitigating the risk of human error. They can also collect and analyze data to predict and prevent potential equipment failures, avoiding downtime altogether. Deloitte and McKinsey found that using performance management analytics driven by automation resulted in a 20-70% increase in productivity.
According to Cyngn's research, the deployment of an AV at Global Logistics and Fulfillment's Las Vegas warehouse facility led to a 33% increase in efficiency when using Cyngn's autonomous stockchaser vs. using an electric pallet jack. Additionally, the organization saw a 64% reduction in labor costs.
Safety Incidents:
Lastly, safety incidents represent another major hidden cost for organizations. Did you know that the average American warehouse experiences 9 accidents per year? However, this is just a part of the bigger picture.
In the warehouse/storage industry alone, there were approximately 5 workplace injuries for every 100 full-time workers in 2020. On average, an industrial accident costs $42,000, without even accounting for associated production losses. This can add up quickly, as in 2019, the total cost of preventable workplace injuries in the US was $171 billion. As you can see, safety can be costly for an organization.
Additionally, a high portion of safety violations doesn't result in injury, such as a vehicle's mirror getting hit while turning a tight corner. While these are minor occurrences, they still require incident reports and slow the day's production, once again representing a hidden cost.
The Solution:
In stark contrast, the Material Handling Institute (MHI) reports zero known AGV-related injuries. Furthermore, a study by the Society of Automotive Engineers (SAE) found that the use of AVs in material handling reduced accidents by up to 90%.
Industrial AVs can greatly enhance safety by removing workers from hazardous tasks and dangerous situations. By prioritizing safety, organizations can decrease the costs associated with accidents, which can, in turn, enhance the quality of life for workers.
The Benefits of Investing in Industrial Automation
As you can see, by investing in industrial automation now, your organization can immediately realize the advantages related to labor, enhanced productivity, and increased safety. This, in turn, can make your business more competitive, scalable, profitable, and better equipped to handle ongoing labor shortages and ever-changing market shifts.
To explore these benefits further, let's look at the expected ROI of an industrial autonomous vehicle. To do so, we can take into account the monthly cost of a DriveMod-enabled Stockchaser, a skilled worker's salary, and the percentage of workers' time spent driving per shift.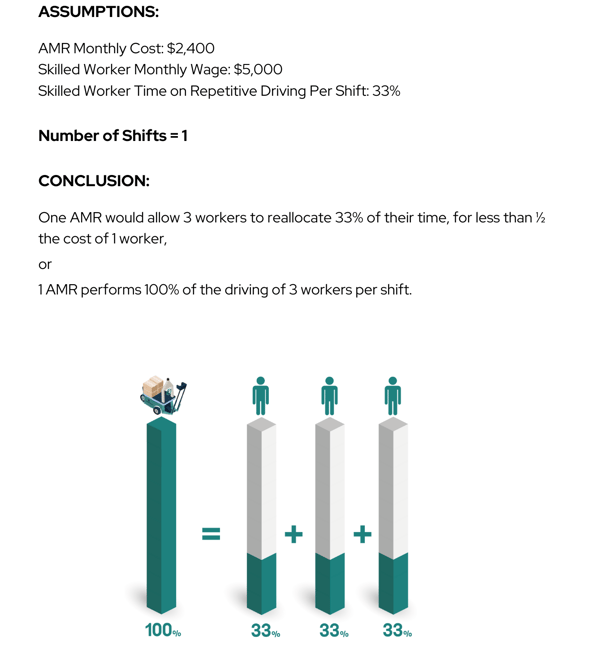 In calculating ROI, we find that if 33% of your worker's time is spent driving per shift, just one industrial AV would allow three workers to reallocate 33% of their time for less than half the cost of 1 worker. Put simply, one AV performs 100% of the driving of 3 workers per shift. By taking on these repetitive, mundane tasks, your workers can reallocate their time to skilled, valuable jobs. This is particularly impactful for facilities that run multiple shifts per day where ROI gains double or even triple.
To learn more about your potential ROI from Cyngn's AVs, check out our ROI calculator.
At Cyngn, we offer organizations a safe and reliable way to introduce autonomous vehicle technology to their vehicles, enabling them to swiftly and easily harness the advantages of industrial automation while avoiding the cost of doing nothing. By tapping into the power of AV technology, your business can increase productivity, address labor variability, gain real-time visibility into your facility, improve safety, and scale and adapt.
Not to mention, with our streamlined integration process, we can have your vehicles up and running with an AV deployment in a matter of weeks. This means that with Cyngn's AV solution, your organization can gain a competitive advantage and revolutionize the way you work — today.
So this raises the question: are you ready to reap the benefits of industrial automation?
---
To learn more about the signs that your warehouse is ready for industrial automation, download our complimentary white paper.